Eyes Wide Shut was legendary director Stanley Kubrick's final film it is an erotic and partially surreal mystery that explores hidden desire and fantasy, as well as looking at how the upper class views people as commodities and products. Tom Crusie and Nicole Kidman star in the film they play husband and wife William and Alice Hartford. William is a doctor, and Alice is a stay at home mom who used to work as a director for an art gallery. The movie opens with them attending a party at a man named Victor Ziegel's, played by director Sydney Pollack, lavish mansion in New York. During the party, William reunites with an old medical school friend Nick Nightingale, played by Todd Field, helps Ziegler out of a sketchy predicament with an overdosing woman, flirts with two gorgeous models, and spots his wife flirting and dancing with a strange man. These events all seem trivial, but perfectionist Stanley Kubrick uses these to build character and advance the narrative. William and Alice eventually have an argument about their almost infidelities, which leads Alice to confess her desires for a naval officer who she spotted eying during their vacation the year before. William then leaves their apartment seeking to commit infidelities and stumbles upon a secret that gets him in over his head.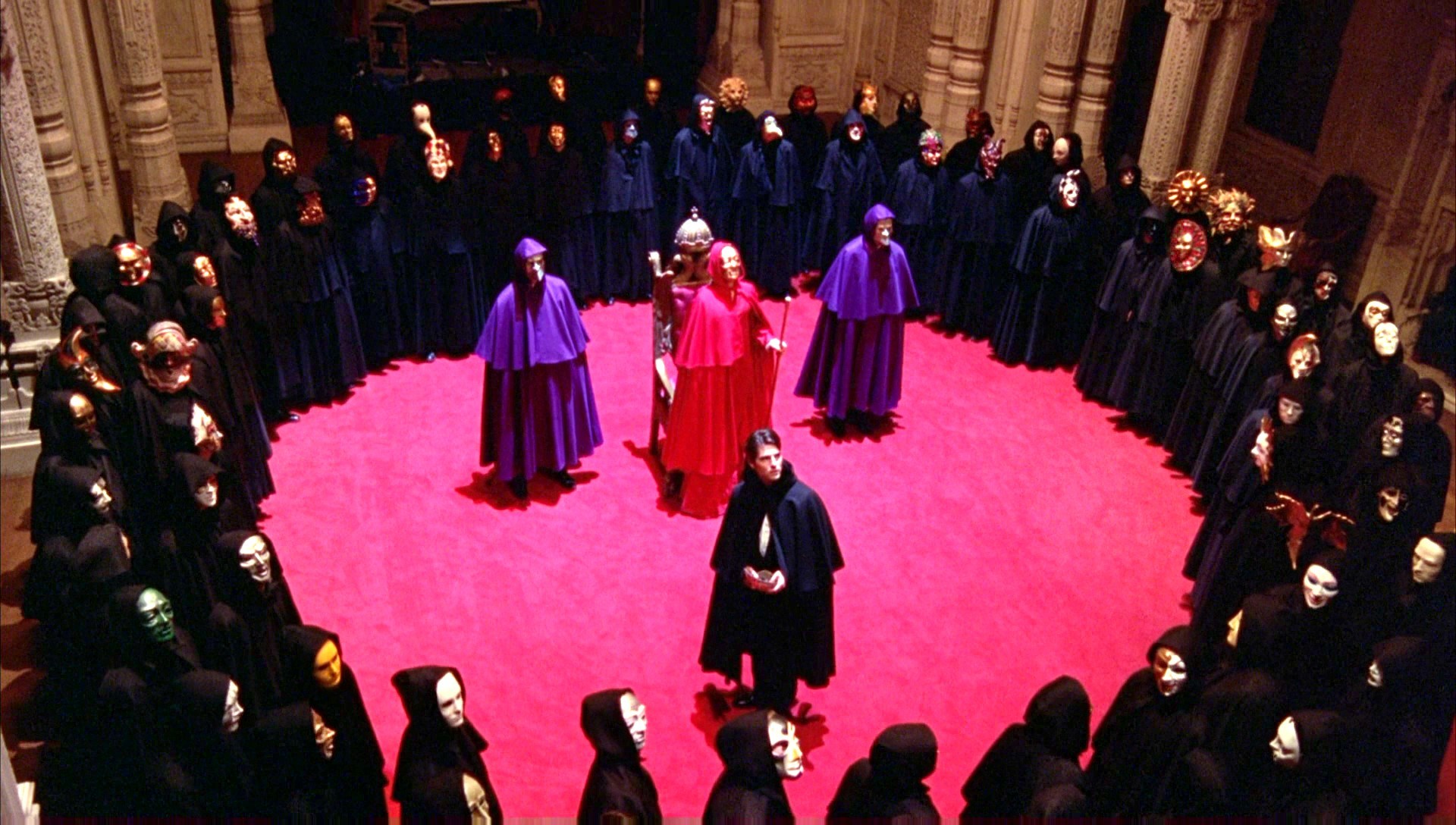 Stanley Kubrick weaves a complex narrative about sexual desire, mystery, and wealth in a unique, surreal, and sometimes disturbing manner. The movie branches into multiple genres, being inspired by the erotic, mystery, film noir, and even horror. Kubrick's pacing is excellent, and the movie's three-hour runtime goes by rather quickly due to the intrigue he builds throughout the story. The cinematography is outstanding as well. Kubrick and cinematographer Larry Smith uses bright neon lighting, as well as lighting from Christmas trees around the set to create gorgeous mood lighting that is visually striking. The cinematography of the film adds to the film's surrealist and dreamlike tone.
Tom Cruise's William initially goes out in search of sex because of jealousy after hearing about his wife's fantasy and dreams, but during his journey, he discovers a secret world that lives beneath our own. William's journey through New York on that night feels like it is out of a dream or a nightmare. William consistently imagines his wife with that naval officer, which may appear to the audience as less of a jealous delusion and more of a sexual fantasy. Through William's travels, Kubrick uses him to show how people use sex as a means of coping and gaining control. We see this in the wealthy secret society that William stumbles upon they use people, primarily women, for their selfish desires and power. William discovers this society out of morbid and lustful curiosity and realizes he is in over his head.
Kubrick gives the audience a lot to dissect with his final film, and it is a triumphant swan song. He spins an erotic tale of jealousy, secrecy, wealth, power, and even dreams. It is a gorgeous film, filled with gorgeous lighting and great performances from its two leads, although I think Nicole Kidman is the standout. Kubrick never disappoints.
Rating 4.5/5