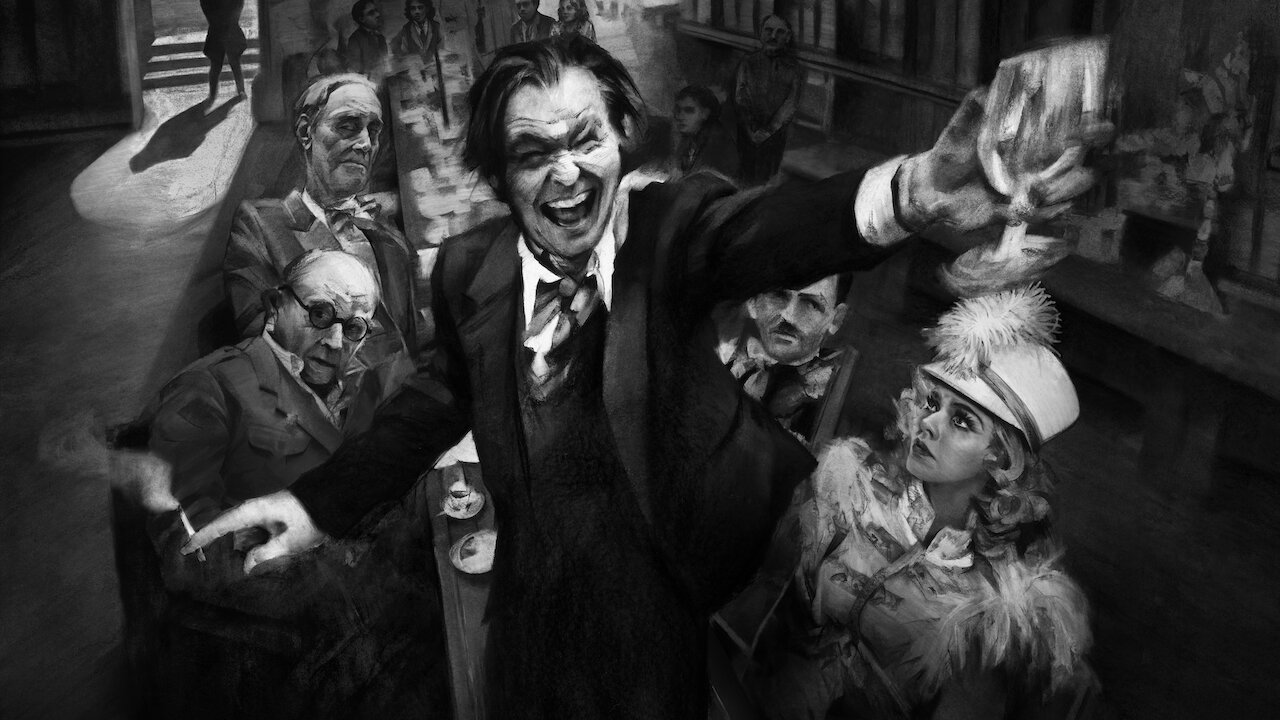 Mank, released in 2020 and directed by David Fincher, is about the writing of Orson Welles' masterpiece Citizen Kane. Gary Oldman stars as screenwriter Herman Mackiewicz, thankfully shortened to Mank, so I don't have to misspell a name multiple times. The movie details Mank's struggle for credit on Kane's screenplay and his relationship with Hollywood producers, William Randolph Hearst, Marion Davies, and the politics of that time, specifically related to the socialist politics of Upton Sinclair. That feels like a lot for a two-hour movie to accomplish and despite some messiness as the movie bounces between periods, David Fincher handles all of the components well, impressively creating a cohesive narrative about a period in Mank's life.
The performance from Gary Oldman is tremendous. He plays the self-destructive, alcoholic screenwriter with wit and grit, able to navigate the complex emotions of Mank's explosive personality. I like how the movie details Mank's humanity by showcasing his opposition to the rising fascism in Germany, with one of his nurses even mentioning how he helped her family escape Nazi Germany. Mank's politics and their conflict with the politics of the wealthy Hollywood producers come into play in the movie as well. He admires socialist politician and writer Upton Sinclair and is upset at the way MGM is willing to create fake ads to try and hurt Sinclair. It is eerie how similar tactics of misinformation are still used today, especially by our President, who has no issue spreading misinformation to the masses to try and secure a victory. As time rolls on, politics do not, and Fincher shows this is a brutal and cynical way.
Almost every performance in the movie is worth noting, but special shoutouts should be given to Amanda Seyfried and Lily Collins who both deserve just as much award talk as Gary Oldman. I have seen lots of talk about Amanda Seyfried's excellent performance as Marion Davies, a platonic and quasi love interest for Mank, but I think equal credit should be given to Lily Collins, who gives a career standout performance as Rita Alexander, Mank's secretary. I hope that Amanda Seyfried can get some deserving credit; she has always been a talented actress who I feel has given underrated performances for most of her career. I am not as familiar with Lily Collin's movies, but given her tremendous performance in the film, I hope that she takes more roles like this that show her acting talent. 
Mank is an outstanding film that showcases the cynical side of Golden Age Hollywood. A movie such as this feels like it was made for someone like me; I love stories about old Hollywood and have always been enamored by the controversy and infamy that has surrounded Citizen Kane since it's release.
Rating 4.5/5